Weekly Bulletin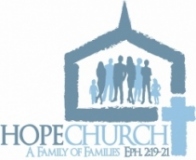 Welcome . . .
to all those who come to morning worship. May you sense God's presence in a powerful way during your worship time here. Hope Church is a multi-generational family of believers that regularly gathers under the banner Christ's grace. As such, we gladly invite each person, young and old, to participate as they are able in worship with the Family of Families during the morning's service. If you are visiting and would like to access care for your child between the ages of 2 and 6, please let one of the Ushers know and we will gladly assist you. In addition, a Nursery is available for children under the age of 24 mos.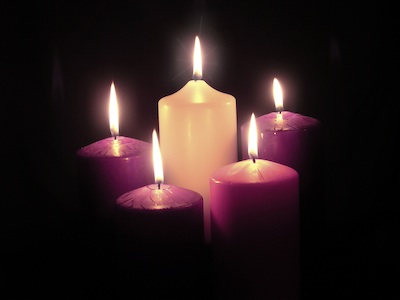 Second Sunday of Advent
December 10, 2017
Morning Worship 10:45 AM
Organ Prelude
Welcome and Announcements
Silent Prayer in Preparation for Worship
Worship in Praise
* Hymn "Hark! the Harold Agnels Sing" No. 141
* Invocation & Lord's Prayer
Advent Candle Lighting Isaiah 9:6-7
Bob & Nancy Crocker
Worship in Dedication
Worship Choruses
Prayer Altar & the Shepherd's Prayer
Worship in Commitment
Presentation of Tithes and Offerings
Offertory Sue Choquette
* Hymn "From Heaven Above to Earth I Come" No. 141
Worship in the Word
* Scripture Reading i1 Timothy 1:1-11
Sermon "Sound Instruction" Pt. 3 Pastor Doug Foss
* Closing Hymn "Of the Father's Love Begotten" No. 129
Moment of Reflection
* Organ Postlude
* The congregation will please stand at these points.
Today's Worship Team
♦ Organ: Noreen Blair ♦ Piano: Abijah Levi
♦ Worship Leader & Guitar: Jake Pickens
♦ Vocals: Hannah Pickens & Arielle Tuttle
♦ Bass: Steve Ross ♦ Drums: Caleb Tuttle
Next Weeks's Hymns: 150, 159, 163