Announcements
Hope Church Family News & Events
March 26 - April 9 BICS Bible Lands Trip

April 15 - New Life Confrence Dinner in Plainville, CT
This is open to all those who want to go - Cost: $16/person, Music: Pastor Sam, Speaker, Andy Rice.
On Friday, April 19 you are invited to Hope Church any time during the hours of 1 – 6 PM for a unique Good Friday experience called "Journey to the Cross."
Various locations around the church will be set up for quiet reflection on the events of Passion Week. The experience will culminate with the nailing of our names to the Cross in the sanctuary. Come as a family, a group of friends, or by yourself to ponder the great sacrifice of our Lord and His passion for the lost.
Upon arrival, please proceed to the Youth Room for instructions.
Friday, May 10
~ 6:00 PM
Retirement Celebration:
You are cordially invited to celebrate the many years of faithful service of President Steve Brown and Vice President Wes Ross and their retirement from the Berkshire Institute for Christian Studies on Friday, May 10 at the Berkshire Hills Country Club in Pittsfield. Please register at berkshireinstitute.org/retirement. The cost is $40.00 per person and space is limited. In addition, in their honor a $60,000 in 60 days campaign has been launched to raise much-needed funds for the Institute. If you'd like to contribute, you may do so at berkshireinstitute.org.
Easter Week Services
* Thursday, April 18, 6:00 PM, Maundy Thursday Dinner
7:00 PM, Communion Service
* Friday, April 19, Good Friday Experience
Journey to the Cross
On Friday
* Saturday, April 20 24 Hour Prayer Vigil
Easter Sunday, April 21
7:00 AM, Sun Rise Service at Stockbridge Bowl
8:00 AM, Pancake Breakfast at the church
9:15 AM, Sunday Service
10:30 AM, Morning Worship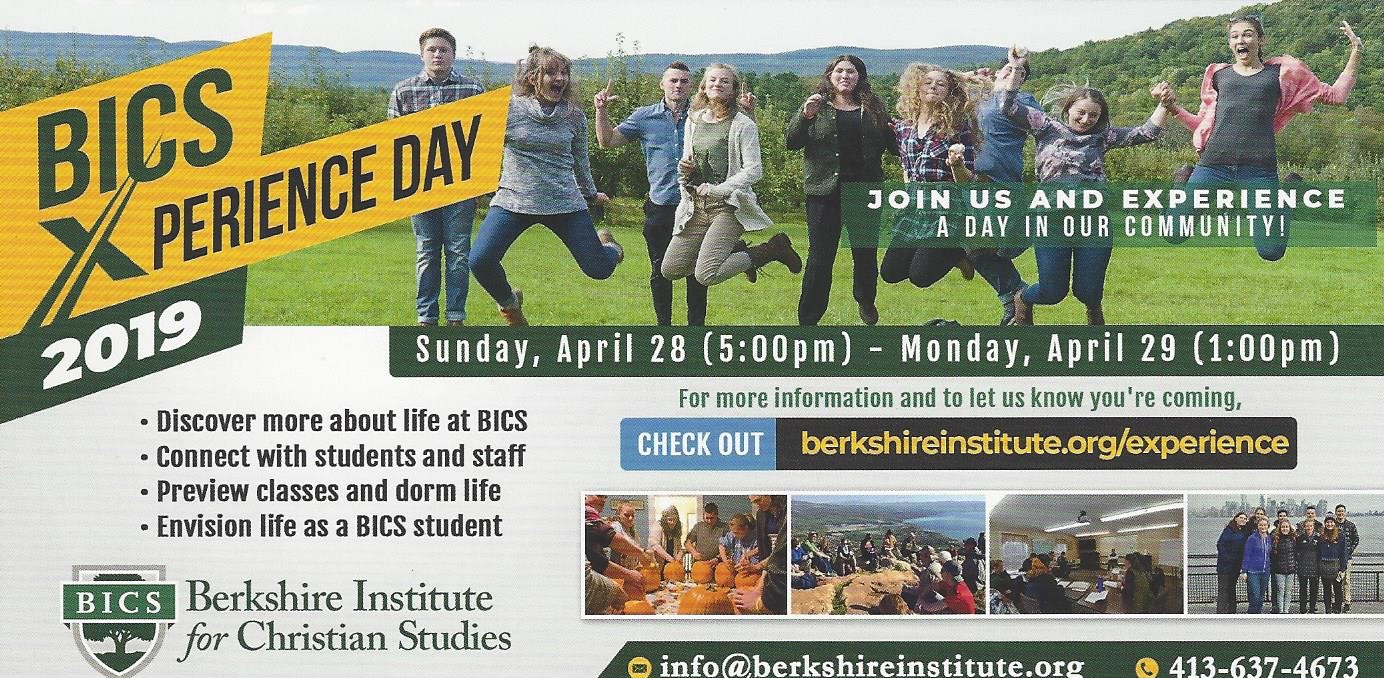 For more information and to let us know you're coming
check out:
berkshireinstitute.org/experience
Hope Church Sermons are now available in two formats, Full Service and Sermon Alone
. Both are also available in CD format by completing the request form located in the pews.
Click here to bring you to the two formats in the download section of the website.
New Updates from our Missionaries
Our Foreign Missionary Prayer Requests
Jacob & Beth Devine in Papua New Guinea.
Pray for continued recovery after Jacob's complex femur fracture from a fall. Their daughter, Naomi may also have a broken leg from a recent unrelated incident. Beth will be flying to the mission center's clinic so she can have an x-ray and probably get a cast.
Michael & Rachel Sleep
. Pray for God's guidance as they leave Wycliffe in Indonesia & return to the US. Michael is working for the University of New Hampshire and both are involved in refugee's and asylum seekers & are helping with a small Indonesian church.
Rev. Edward & Christine Vergara.
Please pray for their adjustment to retirement from foreign missions in Central America after 30 years.
Rev. S.D. Ponraj,
Please pray for his safety and that of Bihar Christian Church. There has been a dramatic increase in violence and persecution from Hindu extremists against churches in Bihar.
Hope Church Weekly Schedule
Sunday
~ 9:30 AM - Sunday School Classes for all ages.
~ 12:30 PM - Single Ladies Lunch Group -
meets the third Sunday of the month, immediately after worship service in the library, for a time of fellowship and prayer. Open to women of all ages.
Next Meeting: February 17.
Monday
~
6:30-8:00 PM - Joyful Heroes Children's Ministry
- Group meets every other week. Contacts: Jackie Boehm (
boehmjaclyn@gmail.com
), Andrew Shaw (
pilotads@hotmail.com
)
Next meeting: February 4.
Tuesday
~ 7:00 PM - Sanctuary & Christmas Choir Rehearsal.
Bible Studies
Tuesday
~ "
Early Birds
" - 7:00 AM - Topic: "
Rightly Handling God's Word
". Leader: Steve Brown. Place: Hope Church. Contact: Marcia Zikan, 413-637-2212 or Steve Brown 413-243-4720.
~
East Lee.
Topic:
1 & 2 Peter.
Open to all. Place: Jim & Jamie Ramondetta, 205 Chestnut Street, Lee. Time: 6:30 PM. Leader: Pastor Doug Foss. Contact: Jamie Ramondetta (
jvrjhr@aol.com
or 243-0775).
Wednesday
~
East Chatham, NY.
Topic
: Book of Galatians.
Open to all. Place: Haakonsen,153 Barnegat Road, East Chatham, NY. Time: 7:00 PM. Leader: Pastor Doug Foss. Contact: Sandy Haakonsen (
educatus123@gmail.com
or 518-392-0408)
Sunday School
Classes for all ages!
9:30 ~ 10:30 Each Sunday
---------------------------------------------------------------------------------------
Children's Department ~ Eris Kennedy
Nursery – 24 months: Suzanne & Deb Ross, Dorinda Shaw
Pre-school: K: Sheri & Caroline Smith -
Elementary: Grades 1-3: Joann Merle
Grades 4-6: Arielle Tuttle & Bekah Kelley
--------------------------------------------------------------------------------------
Adult Department (Includes Jr. & Sr. High) ~ Pastor Sam Cobb
New Classes Begin April 7
Click here Class Descriptions
Roman Catholicism: Pastor Doug (Begins April 14)
Promise Plan of God Old Testament: Andy Smith & Ben Boehm
First Principles Series 1, Books 1-2: Christopher Greene
First Principles Series 2, Books 1-2: Pastor Sam Cobb
12 Ordinary Men, A Study in the Life of the Disciples: Roy Andersen

Hope Church has a gift.
Free access to
Right Now Media
, a huge, streaming, online, access-on-any-device library of over 10,000 video Bible studies, leadership videos, kids shows and more.
Click here to visit the website and join the Hope Church sponsered service

To sum it up — it's like the Netflix of Bible study videos. You will have FREE access to thousands of video resources to help you with parenting, marriage, discipleship and more. It includes content for all ages and stages of life, and all of your family members are invited to set up their own accounts as well.
E-mails were sent out with a link to start the service.

Simply click the link above to start the service

. Please contact Pastor Sam with any questions
Hope World Evangelism ~ Support our Missionaries with Used Clothing
There is a new way to help your Hope Church Missionaries as well as distribute good used clothing that is used worldwide.
Click here for Details.
CD's of Morning Worship
- are available for $3.00. Request forms can be found in the pew rack or guest register and may be left in the folder holder outside the computer room. You may also listen to the
sermons on the web at
www.hopechurchlenox.com
.