Announcements
Hope Church
Missionary Conference,

Saturday, July 21


&

Sunday, July 22

.
Understanding Hinduism & Reaching the Musahars People
("Untouchable Caste") in India
Rev. S.D. Ponraj, Pastor
Bihar Christian Church, India.
3 Event Schedule
7/21 Saturday

,

8:00 AM to Noon

, Conference
Understanding Hinduism & Reaching the Musars, ("untouchables") in India
Coffee and Pastry in AM, Fellowship Hall at Hope Church
7/22 Sunday, 9:30 - 10:30 AM


Church Planting in Bihar India
In place of

Sunday

School, Fellowship Hall at Hope Church.
7/22 10:50 – 12:30

Sunday

Service
A Missionary Challenge Message
In place of the regular

Sunday

Message,
Hope Church Sanctuary & Fellowship Hall.
This conference is open to churches in Berkshire County
Child care provided for the

Saturday

Seminar
Summer Adult Sunday School Mini-Series
Starts July 1st.
Why We Trust the Bible: A New Teaching Series from Stephen Nichols
Rather than forsake us, God sent His Son, Jesus, revealing and recording His redemptive purposes in an inspired, inerrant, and authoritative source: the Bible. Will you accept its authority?
In this new six-part teaching series, Why We Trust the Bible, Dr. Stephen Nichols equips Christians to know why they can trust Scripture in an age that continually issues attacks against it. He explains the origin of the Bible, why we have sixty-six books, its sufficiency for life and godliness, and more.
Six, 23-Minute Messages:
Revelation: Where Would We Be Without It?
The Authority of Scripture, Part 1: The Doctrine of Inspiration
The Authority of Scripture, Part 2: The Doctrine of Inerrancy
Why Sixty-Six Books? The Development of the Canon
Why So Many Interpretations? The Clarity of Scripture

&

Interpretation
Scripture for Life: The Sufficiency of Scripture
Tim Zimmerman & The King's Brass
Thursday, August 23, 2018 at 7:00 PM
"Tim Zimmerman and the King's Brass provide Innovative worship for young and old alike through the best in sacred brass music."
No admission charged - offering will be received.
Start planning who you will invite to join you for a fun evening of music.
Click for more on the Kings Brass and Sample Music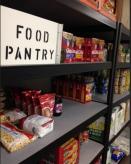 The Commission on Church Planting & Expansion
Requests your help in purchasing the following items for the Lenox Food Pantry:
· Toothpaste & Toothbrushes (all sizes)
· Men's and Woman's Deodorant
· Coffee
· Salad dressing
· Ketchup & Mustard
· Relish
· Mayonnaise
· Olive Oil
Donations can be placed in the designated boxes in both foyers on the May 20th and 27th .
If you have any questions about this ministry opportunity, please reach out to Jackie Boehm (413.212.0862 or
boehmjaclyn@gmail.com
)
Thank you for helping us help our local community!!
Hope World Evangelism ~ Support our Missionaries with Used Clothing
There is a new way to help your Hope Church Missionaries as well as distribute good used clothing that is used worldwide.
Click here for Details.
June Girl's Night Out
. Wednesday, June 13 at 6:30 PM. We will meet at in church parking lot and walk from there to SHAKESPEARE AND COMPANY to explore their grounds. Bring a light snack for yourselves and I will have bottled waters for us before the walk. Rain date of
Wednesday, June 20
. Looking forward to see who will be there. Please send me a text or email to let me know. 4134641810 or
mrskelseyshaw@gmail.com
Senior Adult Fellowship Trip to Gill, MA -
All the seniors have been invited to visit and tour the lovely new home of George and Laura Karl on
Monday, June 18
. We will leave the church around
2:00 PM
and travel to Gill for a time of fellowship and cookout. Meat and rolls will be provided, everyone else is asked to bring a dish to share or a dessert. A sign-up sheet is posted on the bulletin board in the back of the sanctuary, Please indicate the number going and what you will bring. We hope to be able to use the BICS van.
The 27th Annual Adventist Heritage Service
- will be held
on

Sunday, June 24, 2018
, at the William Miller Chapel in Low Hampton, N.Y. The service will begin at
4:00 p.m.
This year's guest speaker will be Justin Nash, Director of Communication for the Advent Christian General Conference. Wes Ross, Pastor of Worship & Music of Hope Church, will be assisting with the music. For more information, please see Pastor Wes. He is planning to leave the church at
1:00 PM
and arriving back around
9:00 PM.
Monday
~*Joyful Heroes - 6:00 PM. Joyful Heroes (boys & girls adventures in Christian family fellowship) Group meets every other week at 6pm. Leaders: Andrew Shaw and Jackie Boehm

~*Youth Fellowship - meets every other Monday at 7:00 PM. Leaders Ben & Jackie Boehm.
*Groups meet every other week on alternating Mondays.

Tuesday
~ Choir Rehearsals – 7:00 PM

Weekly Bible Studies
Monday
~Ladies Bible Study, Discerning the Voice of God by Priscilla Shirer. 7:00-830pm, fellowship at 6:30pm with new format this fall. Meeting on the BICS porch. Leader: Deb Rodgers. All ladies welcome!

Tuesday
~Lenox. "Early Birds". Topic: Rightly Handling the Word of God. Place: Hope Church. Time: 7:00-8:00 AM. Leader: Pres. Steve Brown.

~East Lee. Topic: Book of Colossians. Open to all. Place: Jim & Jamie Ramondetta's, 205 Chestnut Street, Lee. Time: 7:00 PM. Leader: Pastor Doug Foss. Contact: Jamie Ramondetta

Wednesday
~ East Chatham, NY. Topic: The Doctrines of Grace in John by Dr. Steve Lawson. Open to all. Place: Haakonsen's,153 Barnegat Road, East Chatham, NY. Time: 7:00 PM. Leader: Pastor Doug Foss.

For more information on any of the programs or Bible Studies contact the church office at 413-37-2212 or email: info@hopechurchlenox.com
CD's of Morning Worship
- are available for $3.00. Request forms can be found in the pew rack or guest register and may be left in the folder holder outside the computer room. You may also listen to the
sermons on the web at
www.hopechurchlenox.com
.