Africa Connect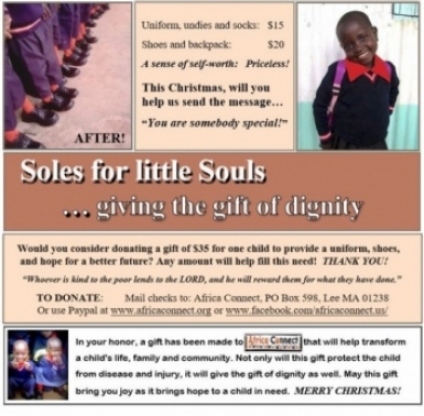 From AFRICA CONNECT - Each year, we offer this opportunity to donate or purchase as an 'alternative Christmas gift' for that difficult-to-buy-for (or BIG-hearted person!), a pair of sturdy leather school shoes or a uniform and backpack for one of our 30 little newbie preschool kids attending Graceway Victory Academy in Kitale, Kenya. (Details are on the poster, plus there's a gift tag at the bottom of the poster.) When we are on the field in February, we have a 'Uniform Day' where we scrub the kids down and dress them in their new uniforms - a tangible gift of dignity and of God's love. It's always one of the highlights of our trip! Thank you in advance for considering this opportunity to help!
In Christ, Sue Choquette
Sue will be leaving

January 28th

and will be returning on

March 2nd

. Marcia put our poster for the "Soles for Little Souls" campaign (providing school shoes and uniforms, and backpacks for our kids) in the bulletin.
We also have several little kids who need sponsors so that they can go to Primary school.
We hope to bring you more information in the bulletin and in announcments at church as the dates gets closer.
For more information on Africa Connect click here.